Travel with Me
Máirtín your Guide
JEEPERS! A Tour of the West and North of Ireland with Máirtín de Cógáin!
SOLD OUT!!!! (waiting list has a few names, too)
Travel the West and North of Ireland with Máirtín!
May 13th – 21st  2018
8 Days/8 Nights
2 nights in Westport, 3 nights in Donegal, 2 nights in Belfast, 1 night in Malahide, Co. Dublin
Arranged through Máirtín Music, get your seat now by emailing travel@mairtinmusic.com
Your Tour Package Includes ALL of the following:
4 Star Accommodations in Westport, Co. Mayo, Donegal Town, Belfast City and Malahide, Co.Dublin
Luxury Coach Transportation with Native Irish Driver, Danny McCarthy of Dublin
Full Irish Breakfast Daily (except day of arrival)
Group Welcome Dinner at Hotel Westport, Mayo
Admission and Guided tour of Rathcroghan – The Royal Capital of Connacht
Driving tour of Achill Island
Tickets to The Máirtín de Cógáin Project live at Matt Molloy's Yard Bar
Guided tour of Carrowmore Megalithic Cemetery, Co. Sligo
Driving tour of Glengesh Pass, Co. Donegal
Group Dinner at the Mill Park Hotel, Co. Donegal
Walking Tour of the City Walls of Derry
The Giant's Causeway a World Heritage site
The Dark Hedges featured in The Game of Thrones
Guided Political Tour of both sides of Belfast
Admission to the Titanic Belfast Museum
Session at Kelly's Cellars
Guided tour of the High Crosses of Kells, Co. Meath
Group Farewell Dinner (4 course meal) at the Grand Hotel, Malahide
Entertainment and Insight from your host, Máirtín de Cógáin and accompaniment by Don Penzien
A tour song book and commemorative tshirt
Planned Nightly Pub Crawls and Music Sessions, Sing songs, Storytelling and Concerts!
Pre Tour Planning and Orientation, helping you to be absolutely prepared for your Ireland Adventure!
This Package includes all of the above, as well as:
2 nights at the Hotel Westport, Mayo
3 nights at the Mill Park Hotel, Donegal Town
2 nights at the Europa Hotel, Belfast City
1 night at the Grand Hotel Malahide, Co. Dublin
All Taxes, Fees, Porterage & Driver Gratuity
5 star customer service from your host, guide and driver
Chauffeur driven Platinum Coach
Total Cost of Your Ultimate Tour Package:
$2,099.00 per person*
*PLEASE READ THE FOLLOWING CAREFULLY:
Price of $2,099.00 per person is based on double occupancy, either twin beds or full sized bed. 
Single room rates are available at additional costs. 
No triple or quadruple rooms are available for this tour.
The price of $2,099.00 per person DOES NOT include the following:
Airfare to and from Dublin.  You are responsible for arranging and payment of your air travel.  Please arrange your arrival at Dublin on or before Sunday May 13th 2018 and be at the Dublin Airport Terminal 2 on May 13th BEFORE 10am Irish Time.  If you arrive after this date and time, you are responsible for your own transportation to meet with the group. You should arrange for your return flight to United States from Dublin on or after Monday May 21st 2018
Transportation from the Grand Hotel to Dublin Airport on May 21st 2018
Gratuities for dining service and tour guides
Site fees, except for those explicitly detailed in this description
Travel insurance covering health issues, tour cancellation, tour interruption, and flight delays
Any and all expenses not explicitly expressed in this description
DEPOSITS AND PAYMENTS:
 $700.00 deposit per person is required to hold your spot.  Non-refundable deposits are due to Máirtín Music before 3:00 pm PST, Wednesday November 15th 2017.  Balance of $1,399.00 per person is due to Máirtín Music before 3:00 pm PST, Wednesday February 28th 2018
IMPORTANT: We HIGHLY RECOMMEND the purchase of a comprehensive Travel Insurance policy, in the event that you must cancel or interrupt your trip.  In the event of a cancellation, Máirtín Music will attempt to refund a portion of payments made to them, but cannot guarantee any return, as these funds have already been guaranteed to other service providers (hotels, restaurants, transportation, attractions, and sites).
Any further questions, contact:
Máirtín de Cógáin
Máirtín Music
+1-310-447-4839 (anytime just be sure to leave a message)
Travel@mairtinmusic.com
Here it is, the tentative itinerary for YOUR "Tour of the West and North of Ireland with Máirtín" Tour! (subject to changes, with comparable and equitable substitutions)
Departure Day: Saturday May 12th 2018:  You will depart the United States airport of your choice for an overnight flight to Dublin Airport.  IMPORTANT: You are responsible for your own flight plans to and from Dublin Airport, the cost of which is not included in the Tour Package.  
YOU MUST ARRIVE or BE AT DUBLIN AIRPORT ON SUNDAY MAY 13th 2018 BEFORE 10:00 AM IRISH TIME. 
DAY 1, Sunday May 13th: Seán's Bar, Rathcroghan, & Westport
Máirtín and Danny will meet you at Dublin Airport; assist you from the terminal to our Luxury Coach, which awaits to take you on to our first stop, Seán's Bar, Athlone, Co. Westmeath.
Experience the pinnacle of coach travel on this tour – sightseeing has never been so relaxed and easy!  A true limousine style coach steeped in comfort & design with ample space for you to stretch out and enjoy the road. This magnificent vehicle is the envy of the coach industry and is frequently used for European Union official visits!  Coach features include: Leather Appointed Seats, CD System, Air Conditioned, Drinks Cooler, PA System, Satellite monitored & Navigation.
We will then go on to Westport and our lodgings for the first two nights, The Hotel Westport.  At The Hotel Westport, you are guaranteed a warm welcome, exceptional service, luxury accommodation and an experience that will bring you back for more. A 4-Star family owned hotel, Hotel Westport is located in The Demesne, surrounded by woodland in the heart of the heritage town of Westport in County Mayo, one of the beautiful counties situated on the Wild Atlantic Way.
After a group dinner at the hotel, you will be able to walk over with Máirtín, Don and Danny to a mighty session at Matt Molloy's bar where there will be a welcome for us at the door.
DAY 2, Monday May 14th: Achill Island, the Wild Atlantic Way
After breakfast we will board the coach and head west and drive over to Achill Island.
Achill's stunning landscape and rich history offer visitors a wide range of scenic attractions, beauty spots and places of interest. Perfect for exploring, Achill always seems to have more places still to see on your next visit.
The Atlantic Drive comprises over 40km of breathtaking coastal scenery that is ideal for touring in a bus! On route for the Atlantic Drive is the Tower at Kildavnet, the remains of a 16th century Irish tower house that was used by the legendary pirate queen Granuaile (Grace O'Malley).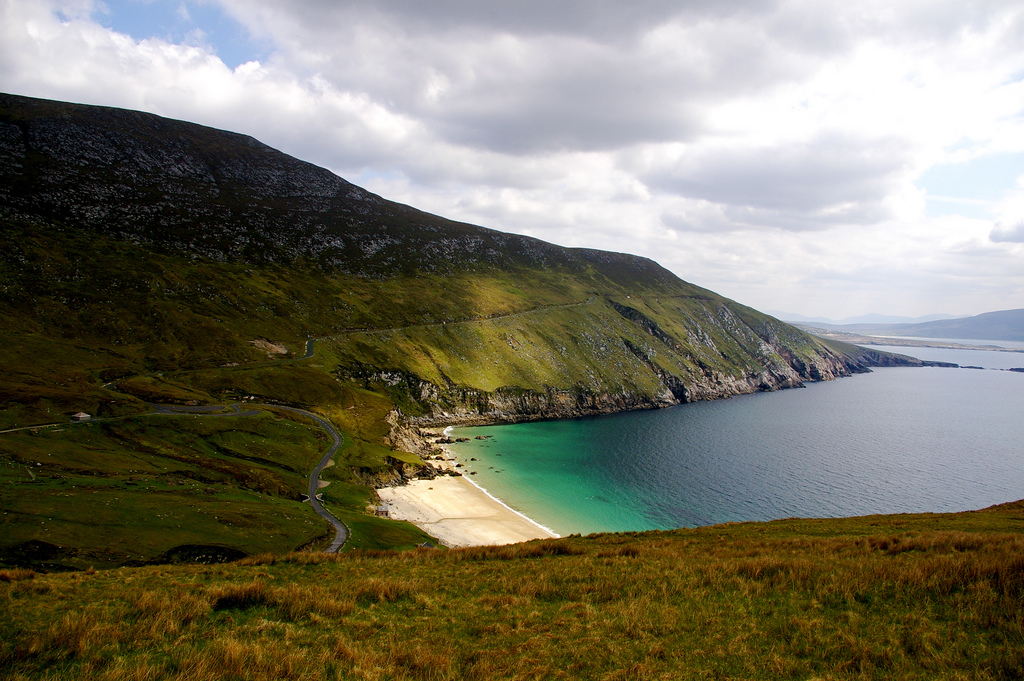 The Deserted Village at Slievemore is a haunting reminder of times past. Comprising some 80 stone cottages located at the foot of the majestic Slievemore mountain, the Deserted Village offers a fascinating insight into life on Achill in former centuries.
After a wonderful day of sightseeing we will return to Westport for an afternoon of exploring the town on your own.
That evening, we will meet at Matt Molloy's Yard Bar where Máirtín & Don will play a concert.
DAY 3, Tuesday May 15th: Carrowmore, Sligo town, Yeats' grave
This day we head north to Donegal town. Our first stop will be at Carrowmore Megalithic Cemetery
This is the largest cemetery of megalithic tombs in Ireland and is also among the country's oldest, with monuments ranging from five thousand to five thousand eight hundred years old. Archaeologists have recorded over 60 tombs of which 30 are visible. A restored cottage houses an exhibition relating to the site. Access to the tombs may be difficult for people with disabilities. Visitors are advised to wear shoes suitable for walking on uneven terrain.
We will venture into Sligo Town to give you a chance to wander off on your own and grab a bit of lunch on the way.
As we continue on our way north we will visit Yeats' Grave and have a look over the wall of Lord Mountbatten's house while we take in a view of BenBulben.
Finally this day, we will arrive in Donegal town and stay for the next three nights, at The Mill Park Hotel.
A warm Donegal welcome awaits you upon arrival at the Mill Park Hotel, Donegal Town. The Mill Park Hotel is situated just outside the historic town of Donegal and the hotel's location makes it the perfect holiday base for you to discover the tourism attractions of Donegal and Ireland's North West.
The Mill Park Hotel, Donegal Town, Co Donegal is an independently Irish owned hotel – they are customer focused and a 'nothing is too much for you' attitude prevails throughout the hotel.  As a resident of the Mill Park Hotel Donegal Town, Co Donegal you can access the internet free, from the hotel lobby or your room, using free Wi-Fi service. Along with the Hotels Leisure Centre/Swimming Pool access and only 10 minutes walk from Donegal Town, it is the ideal location for your stay in Co Donegal, Ireland.
We will venture into town for a session at a nearby pub later in the evening.
DAY 4, Wednesday May 16th: Killybeggs, Glencolmbkill, Glengesh pass, Ardara
After a massive Irish Breakfast, we will find Danny waiting to take us on one of his favourite drives in all of Ireland. We will cruise along the Wild Atlantic Way and see great sights like Killybeggs, Glencolmbkill and Glengesh pass.
The Glengesh Pass is a windy section of the road that connects Glencolmcille to Ardara. Glengesh (Glen of the Swans) Pass (900 feet above sea level) meanders through the Glengesh and Mulmosog Mountains.  The distance between the two towns is approximately 15 miles.  During the drive, visitors can enjoy the farmland, desolate moorland, and tranquil setting.
The scenery in the area is magnificent. There is a feeling of peace and stepping back in time. Sheep can be seen wandering in the area. The farms are well kept. Although a few windmills have been introduced,  the area has not been spoiled by development.
We will make a stop in Ardara for lunch at Nancy's Pub. Around the town we just might see a weaver making the famous Donegal Tweed. Ardara, one of the five designated heritage towns in Donegal, is situated in the beautiful south west region of Donegal.  Close by is the Owenea River, where the salmon and trout fishing is widely regarded as one of the best in the country.
At the end of the day, we will head to the hotel for an evening meal and a night of Storytelling and a sing song. Bring your tour songbook!
DAY 5, Thursday May 17th: Derry City
After another huge breakfast we will load up the bus and head northeast and cross the border into Derry City, Northern Ireland. Here we will be met by a local guide who will walk us around the town and the city walls of Derry. From there you have the freedom to go off on your own to explore this fabulous town full of history… there is so much to do! (*Note: you are responsible for all site admissions on this day, after the walking tour, as they are not included in your tour package)
The bus will pick us up around 3pm and bring us back to the Republic, no passport check, yet, and drop us off at the hotel for you to lounge in the leisure centre or wander into town.

That evening we will meet up at a session in town.
Historical walking tour of Derry City
DAY 6, Friday May 18th: The Giant's Causeway, The Dark Hedges & Belfast 
Time to say farewell to dear old Donegal. With an early start and a big day ahead a good breakfast is the way to go. Bring a scone or an apple with you for later, maybe. For when you get on the bus we head to the far northeast of Ireland and cross over the border, still no passport check, and up 'the jewel in the crown of the fabulous coast of Antrim.  The Giant's Causeway is a World Heritage site and therefore ranked alongside Mount Everest and the Giant Redwoods of California for it's importance to humankind.  Volcanic activity helped Finn Mc Cool forge this wonder of the World some 60 Million years ago. It is today the habitat of rare plants and animals. Please treat their home with the pride and the care it deserves.' So says David Bellamy.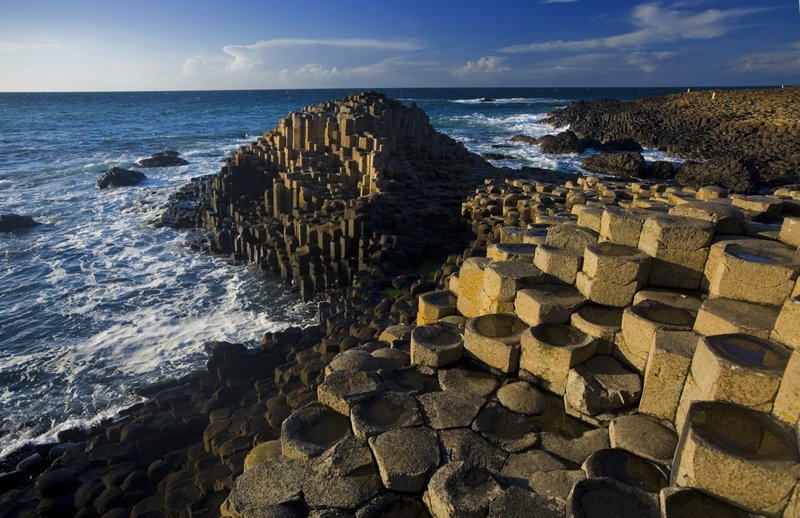 We will stop for lunch, then we will head on to The Dark Hedges
This beautiful avenue of beech trees was planted by the Stuart family in the eighteenth century. It was intended as a compelling landscape feature to impress visitors as they approached the entrance to their Georgian mansion, Gracehill House.
Two centuries later, the trees remain a magnificent sight and have become one of the most photographed natural phenomena in Northern Ireland.
In fact, the iconic trees have been used as a filming location in HBO's epic series Game of Thrones, representing the King's Road. The Dark Hedges have been included in a list of the 12 best road trips in the UK and Ireland, compiled by the website www.continentalroadtrip.com.
Then it is on to Belfast…
For the next two nights we will stay at the World Famous Europa Hotel, which is located in the heart of Belfast City Centre. The elegant décor, contemporary bistro, bustling bar and relaxing piano bar lounge make the four star Europa Hotel the hotel of choice for any guests visiting Belfast.
Due to its prime location, the Europa Hotel is a short distance from many of Belfast's top visitor attractions including the Ulster Museum, Grand Opera House, City Hall, Titanic Belfast, the Waterfront Hall and the Odyssey Arena.
The Europa Hotel has an international reputation for hosting prestigious events and looking after many of the celebrities and VIPs who visit Belfast. At the Europa every guest is a VIP and will experience the finest in Irish Hospitality and highest level of customer service.

With such a selection of dining in Belfast it is hard to choose but there is one of Ireland's best Fish & Chip shops right across the street.
Danny the Ballad singing Bus Driver will bring us to a favourite session of his that evening where a few friends will call in to help raise the roof at Kelly's Cellars.
Kelly's Cellars is Belfast's oldest traditional Irish pub, often described as "a hidden gem that oozes old traditional values".  It's famous for the best pint of Guinness in Belfast.
Built in 1720, it is situated in the heart of the city. Kelly's Cellars has changed very little in 200 years and still has most of its original features.
The whitewashed walls and uneven concrete floor are in keeping with a traditional Irish bar. There is nothing plastic about this place – it is the genuine article. Unlike modern places, the bar is what you would imagine a few hundred years ago – low arches and an original open fire makes Kelly's Cellars feel like home from home and people singing a song or two is a familiar part of a vibrant pub.
Kelly's is also known for it's history – the United Irishmen used Kelly's cellars as a meeting place and plotted the 1798 rebellion against English rule, which is still prevalent in today's political climate. Henry Joy McCracken, one of the leaders, was eventually caught and executed 300 yards from the bar. He is buried in a local cemetery, ten minutes walk from the city centre.
The Irish language is spoken by the owner and most members off staff and Irish speakers flock to Kelly's and are proud to speak their native tongue and hear it spoken. The Irish language is an important part of our rich culture and has taken pride of place in Kelly's Cellars!  Some night awaits us there!
DAY 7, Saturday May 19th: Political tour of Belfast and the Titanic
After a leisurely breakfast we will head out on the bus to meet Éamonn from Big E Taxi tours to give us the story of Belfast's political history and modern landscape. Éamonn is a man who lived through the troubles will tell both sides of the story so much so that you might have to ask him what side he was on…
From there we break for lunch and reconvene to see the city's most famous landmark and museum, Titanic Belfast.
Titanic Belfast is the world's largest Titanic visitor experience, exploring the Titanic story in a fresh and insightful way.
Make your way through the 9 interactive galleries of the Titanic Experience, explore the symbolism of the iconic building with The Discovery Tour, dine in Bistro 401 or browse for an exclusive gift in the Titanic Store. Walk the decks of the last remaining White Star vessel – SS Nomadic or immerse yourself in the historic Slipways as you uncover the true legend of Titanic, in the city where it all began.
You are free for the rest of the afternoon to wander the city and meet us back at the hotel where we will lead you to another night of galavanting and music. (*Note: you are responsible for all site admissions for the remainder of this day as they are not included in your tour package)
DAY 8, Sunday May 20th
This day we had south into Kells and the Boyne Valley to explore some of Ireland's greatest cultural jewels.
We will first stop at the town of Kells, Co. Meath, where local guide Lucia will be waiting to bring us back in time.
Kells is a delightful small town with one of the very best collections of the sculpture and buildings of the early Christians and is most famous for its 9th century Book of Kells, which is one of the most beautiful books in the world.
A manuscript of the Four Gospels, it was completed in Kells in the monastic site and sent to Trinity College in the 17th century, where it still remains.
The highlights of ancient Kells are clustered in the monastic site, with its Round Tower and three High Crosses and the base of a fourth one. Across the road is one of the oldest monastic buildings in Ireland, known at St. Colmcille's House. A fifth cross, known as the Market Cross, was removed for safety down the hill and stands outside the Old Courthouse.
The Spire of Loyd, a short drive outside the town centre, is Ireland's only inland lighthouse, and gives a wonderful view of the country round about.
Headfort House which was designed by the renowned Irish architect, George Semple for the Earl of Bective, Sir Thomas Taylor, and built in the 18th century, houses the only suite of Robert Adam interiors to survive in Ireland, and is now being restored under the care of the Headfort Trust and the World Monuments Fund.
Teltown, nearby, was the location for the famous Tailteann Games, which formed the template for the ancient Olympic Games.
We will then say goodbye to our delightful driver Danny and check in to the Grand Hotel, Malahide, Co Dublin for our last night together. That evening we will have a four course last supper and a farewell singsong led by your host, Máirtín de Cógáin.
DEPARTURE DAY, Monday May 21st:
After Breakfast and check out, you are responsible for your own ground transportation to Dublin Airport, or other destinations.
—————————————
About Máirtín –  Máirtín is a singing, dancing, story-telling bodhrán player who also is a noted playwright and actor.  He performs in his native Ireland and all over the U.S…. and between and beyond, too!
An infectious personality, Máirtín pleasantly commands the attention of any collection of people, from a concert hall to an intimate porch.  Descended from a long line of storytellers and with two CCÉ All-Ireland's for Storytelling under his belt, Máirtín gets no more joy out of life than the telling of stories.
When touring the globe with The Máirtín de Cógáin Project, The Fuchsia Band, & Gailfean, Máirtín is also a true promoter of the Ballad.  He is searching ever for those forgotten songs of old to give them new life, and also writes some of his own.  Máirtín learnt from many famous Irish singers such as Danni Maichi Ua Súilleabháin, Séamus Mac Mathúna, and Ciarán Dwyer. A fluent speaker of Irish, his love of the 'Teanga na Gael' stems from his parents, who brought him up in a bilingual house and sent him to primary & secondary schools taught in the medium of Irish.  Máirtín then earned a Degree in the Irish language from University College Cork.
If not on stage singing, storytelling, dancing, or playing the bodhrán, Máirtín is threading the boards as an actor, most notably in the film The Wind that Shakes the Barley.  He has co-written many productions with the Be Your Own Banana Theatre Company, recently playing De Bogman off-broadway in NY.  

Máirtín has been playing the bodhrán for a long many moons, learning first from Eric Cunningham (The New De Danann) and later from Colm Murphy (The Old De Danann).
Growing up in a house full of dancing, Máirtín could not but help teach the steps at the family run Céilís from an early age, and a gifted teacher of Cork's folk dances he is.  Máirtín makes friends wherever he goes.  In a very short time, Máirtín, the Fuchsia Band, and the "Project" have made themselves regulars at some of the most prestigious Irish festivals in the U.S. While now living in San Diego, he has taken up Sanke Charming & Bird Watching while not on the road and hopes one day for A Big Year!
And now, Máirtín is proud to offer this special tour of Ireland!  We hope you are able to join us for what is sure to be a grand event!
ONLY 24 SPOTS ON THIS TOUR!
FIRST COME, FIRST RESERVED!  HOW TO BOOK YOUR SPOT:
1.    Contact Máirtín by email at travel@mairtinmusic.com – This only PROVISIONALLY holds your spot.  Spots will be provisionally held in the order in which they are received by emails to Máirtín.
2.    Once you have paid your deposit by credit card or check, your reservation(s) is (are) at that time CONFIRMED and will be held for you pending your balance payment on Friday, Feb. 28th 2018.
3.    Once your deposit is received by Máirtín Music, you will receive an email from Máirtín welcoming you to the group.
Note: All Payments are to be made to:
Máirtín Music
PO BOX 1811
Poway, CA 92074
Deposit payments and payments on balance are non-refundable upon cancellation, unless another person can be found to buy your tour package.
IMPORTANT: We at Máirtín Music HIGHLY RECOMMEND the purchase of a comprehensive Travel Insurance policy through a travel agency or insurance carrier of your choosing, in the event that you must cancel or interrupt your trip. In the event of a cancellation, Máirtín Music will attempt to refund a portion of payments made to them, but cannot guarantee any return, as these funds have already been guaranteed to other service providers (hotels, restaurants, transportation, attractions, and sites).
Price of $2,099.00 per person is based on double occupancy, either twin beds or full sized bed. 
Single room rates are available at additional costs.
Any further questions, contact:
Máirtín de Cógáin
Máirtín Music
+1-310-447-4839 (anytime just be sure to leave a message)
Travel@mairtinmusic.com
www.MairtinMusic.com